FLORIDA CITY
SPEEDWAY

Photos and articles from the collection of

Ron "Frenchy" Paquin

There are a lot of pictures here, so please be patient as they load. It will be worth the wait!

All photos are by Jack Colby, unless noted.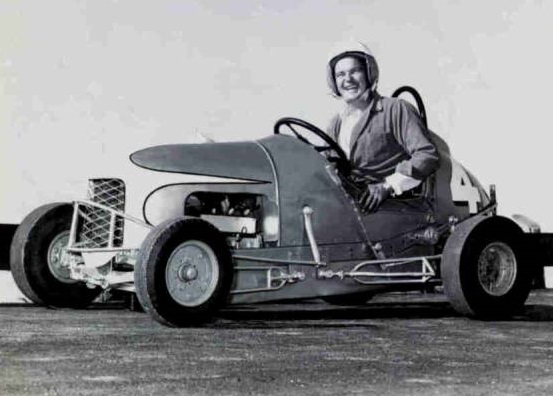 Here is a guy who loves racing!
While a serviceman stationed in New Mexico, Ron began driving and became acquainted with the Unser family. These were the years of the Korean war, and Ron had a "sensitive" job, so he raced using an alias. "Okie Cahill"!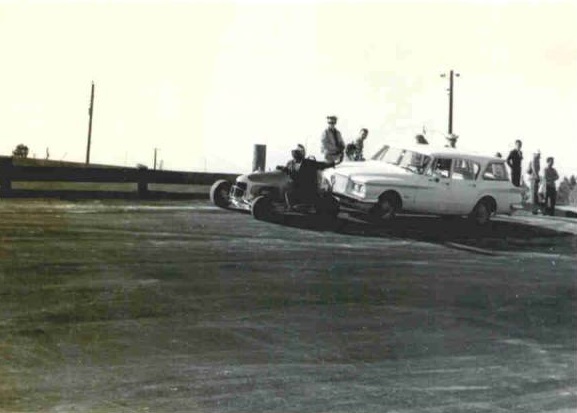 Ron was involved with the SFRA before there was a track in Florida City. He raced with the club at Hialeah, and at events on dirt at the Homestead Rodea arena.
Here he gets pushed off for practice a few weeks before FCS opened.
Ron was the "Rookie of the Year" at the new track.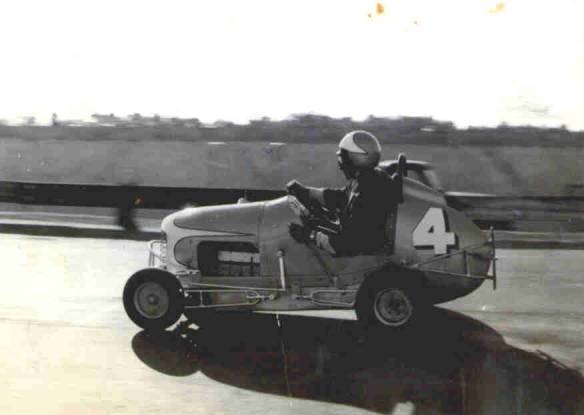 Ron and his brother Warren put in many hard days helping to build the track. He worked for Southern Bell, so he and his brother ended up doing much of the "pole" work like hanging lights, connecting the loudspeakers, and even sunk the posts that supported the wall.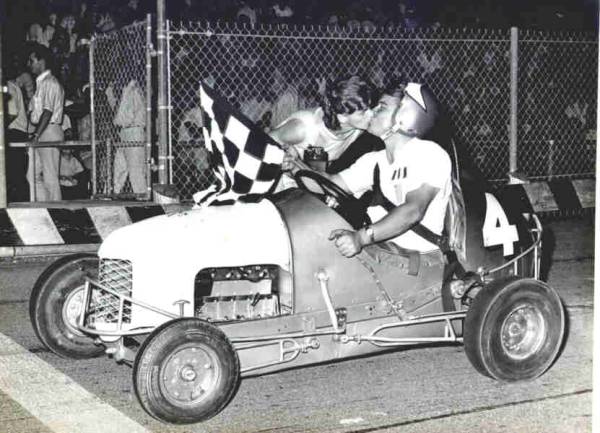 Here Ron enjoys the finer things in life: a TQ win and a kiss from his wife Mae. They were a hot item through 50 years and 4 kids!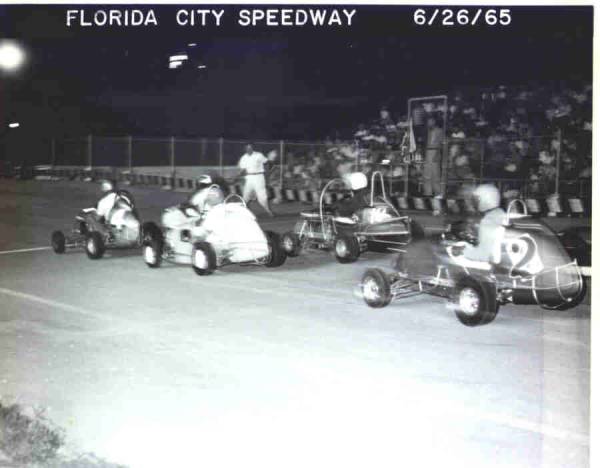 Race time! Ron is on the pole with Rich Benn on the outside. Row two is Bill Hughes (# 3) and Eddy Washburn (# 19). Gene Lanham drives the deuce.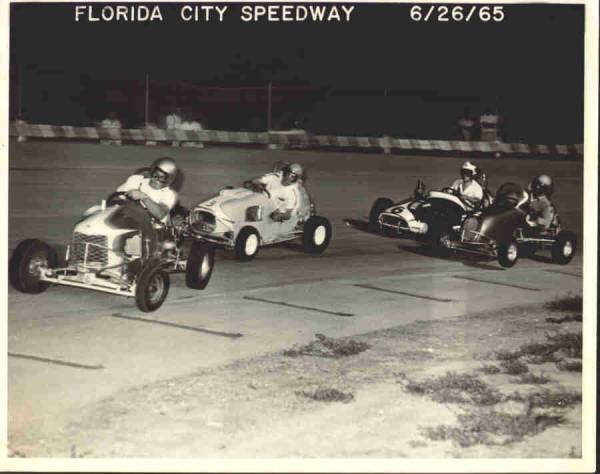 I love this picture! Ron leads the way but has his hands full with a sliding car and pressure from Bill Hughes, # 3. Gene Lanham (# 2) carries the left front high in the air as he works under the roadster of Rich Benn, # 6.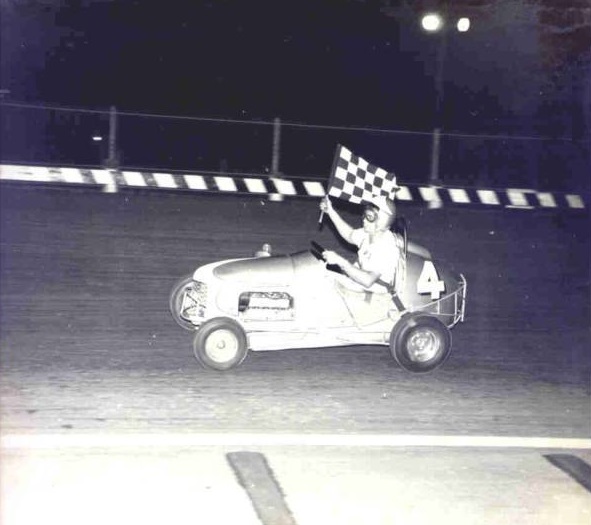 Another good night for Ron.
His # 4 was built by "Injun Joe", and sold to Rich Benn who raced it at the Homestead Rodeo Arena. Ron bought it in the early '60's.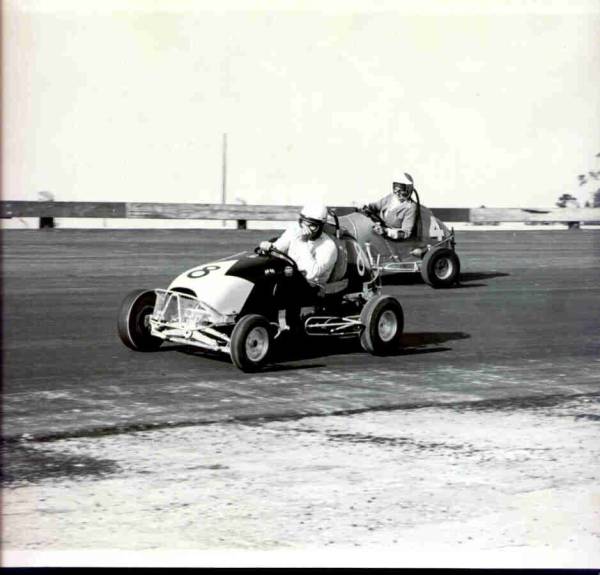 The Paquin brothers are out for a little practice. Warren's # 8 was powered by a Harley WR motorcycle engine. According to Warren, it was a "Fire Spitting Cycle".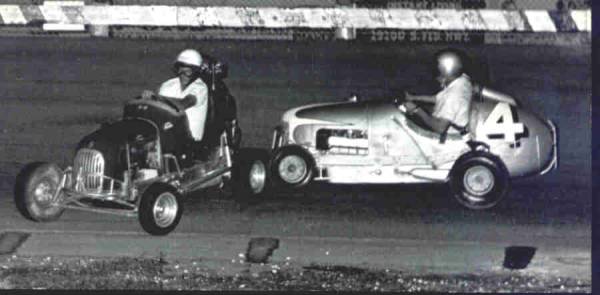 Lawrence Westbury looses it as Ron takes evasive action.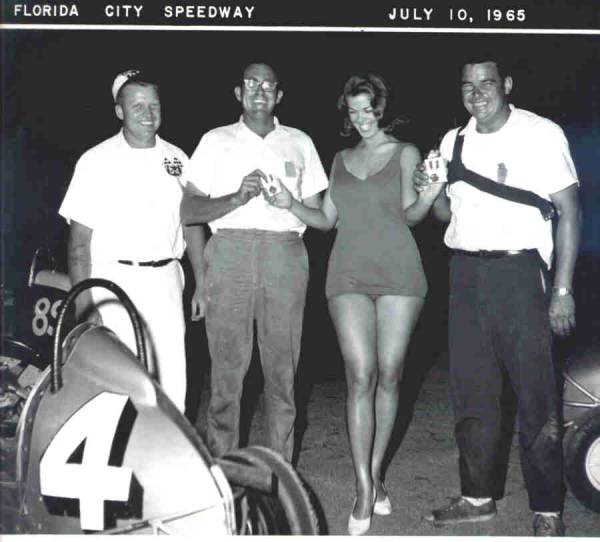 Ron Criswell (at the left) is passing out the "Good Sportsman" awards to Jessie Young and Ron (at the right). The trophy babe this evening was Linda Rose
July 10, 1968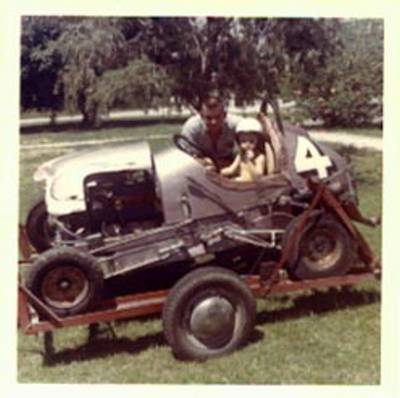 Here is a color snapshot of the # 4. Pictured are Warren with his son Warren Jr. See the page about Warren Paquin on this site.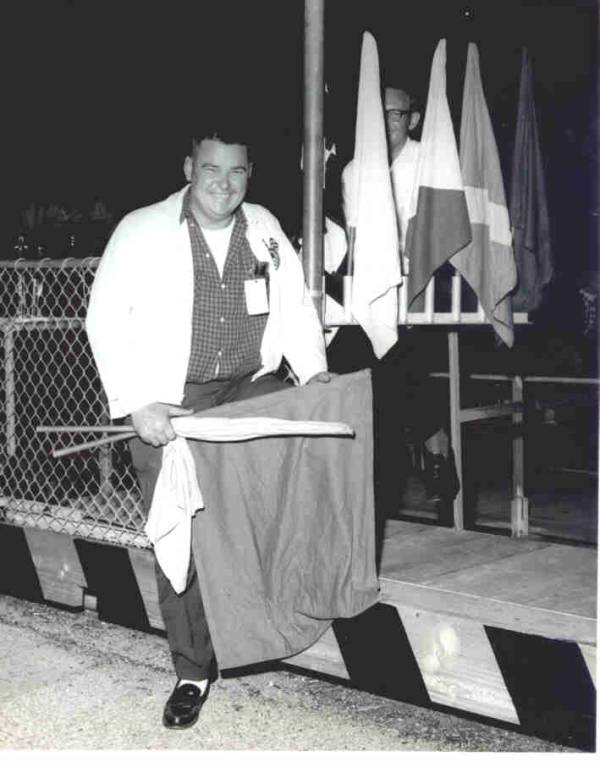 Ron broke his shoulder in a hard flip at the track. He was off racing to recover, so he served as the starter for 6 months. The assistant starter was Bob Schuler.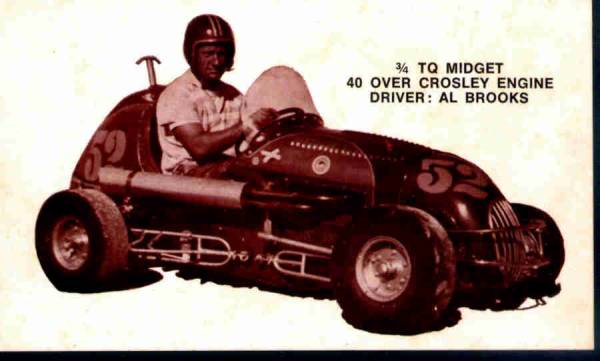 Al Brooks. According to Ron, "a good man and a good competitor."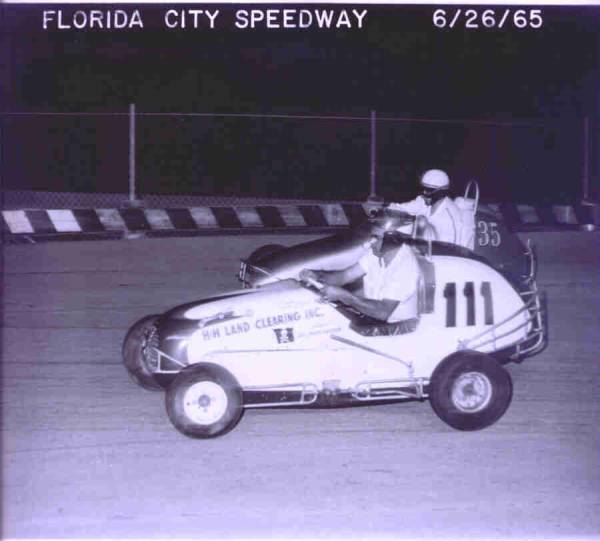 Roger Hardin (# 111) and Earl Hatch (# 35). Earl's car was powered by a 2 cycle Mercury outboard engine.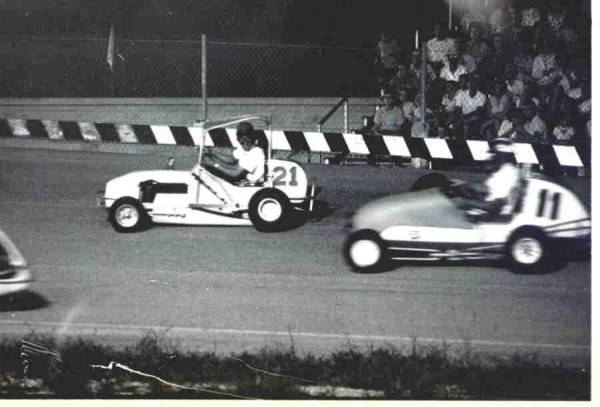 Doc Tyre (# 21) leads Brady Mason (# 11).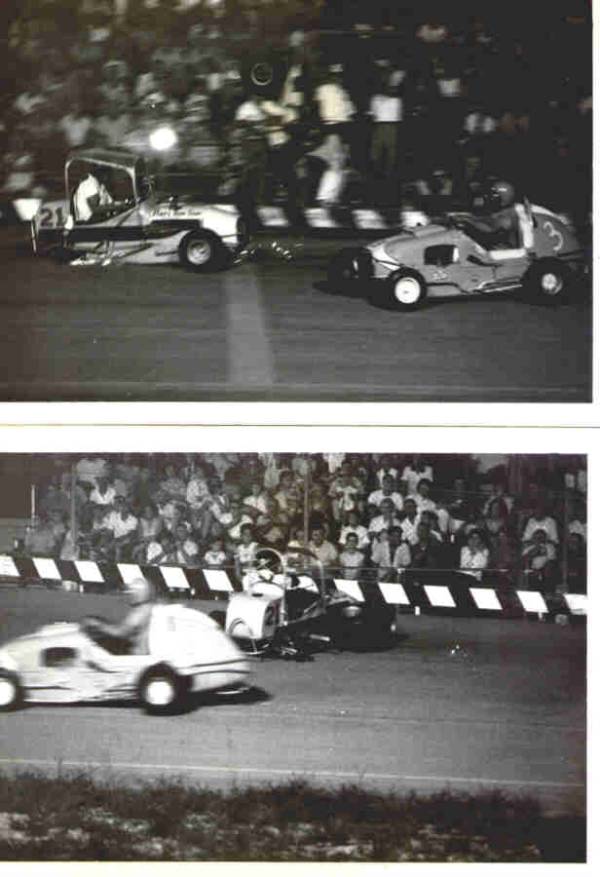 But not for long! Note the right rear tire bouncing in the center of this picture. Bill Hughes slides by.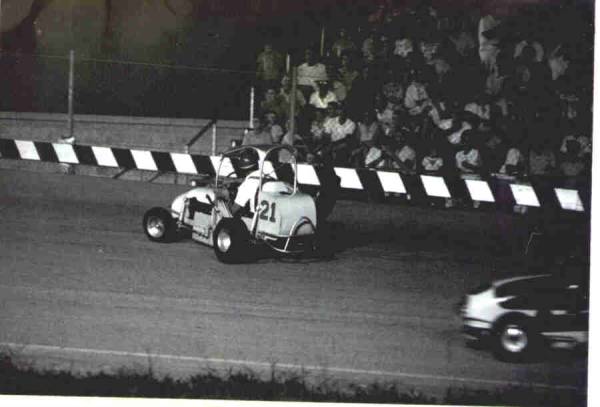 "Another broken axel, &$*@#!!"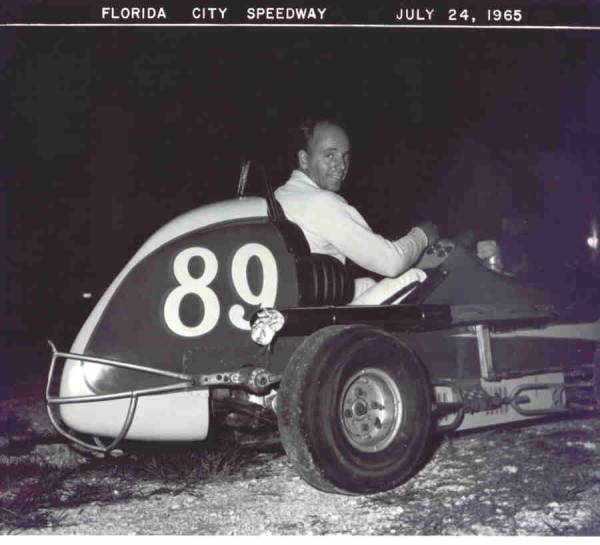 Gill Trim was a car salesman at Hallett Pontiac in Perrine.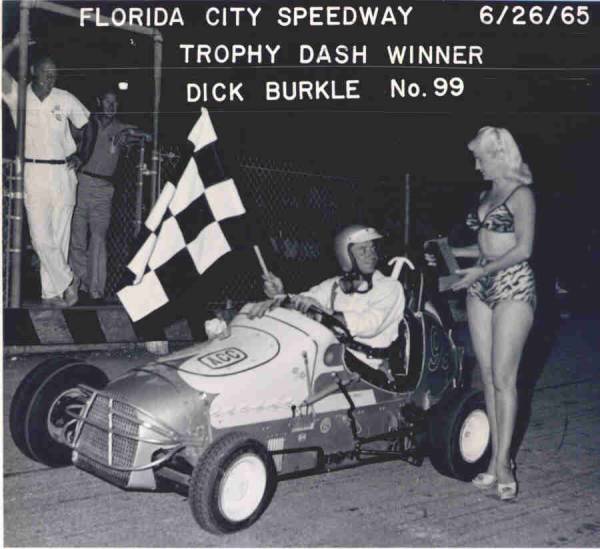 Dick Burkle suddenly forgets all about racing! The trophy babe was Marilyn Colby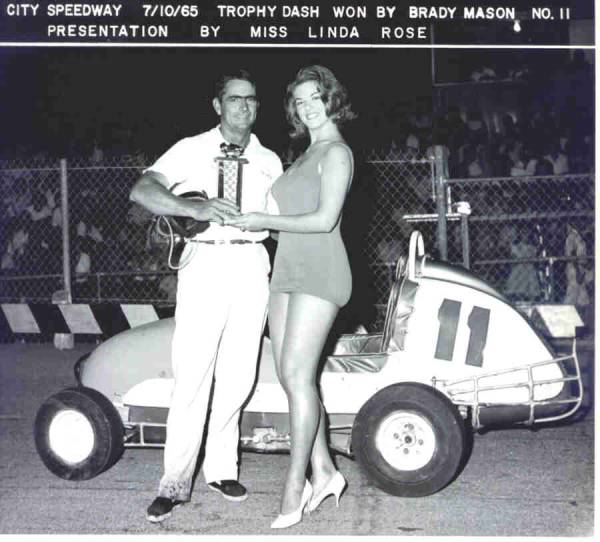 Another win for the very popular, and well respected, Brady Mason. Here he is shown with Linda Rose.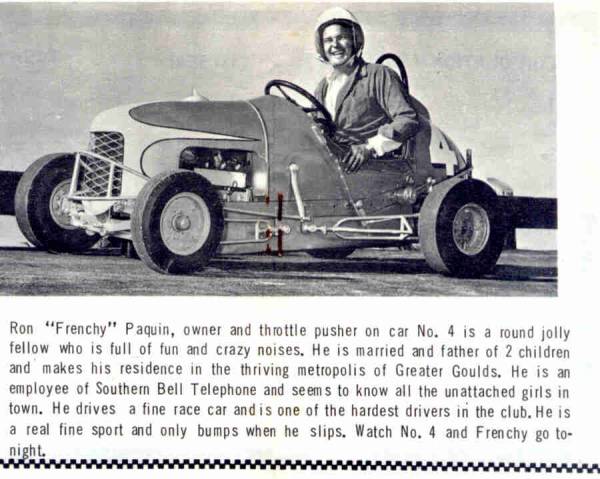 This page appeared in the racing program. Ron sincerely disagreed with the line about "all the unatteched girls", otherwise, it is a great example of racing journalism before the commercial age we know today. Note Ron never mentioned a list of sponsors, thanks the crew etc.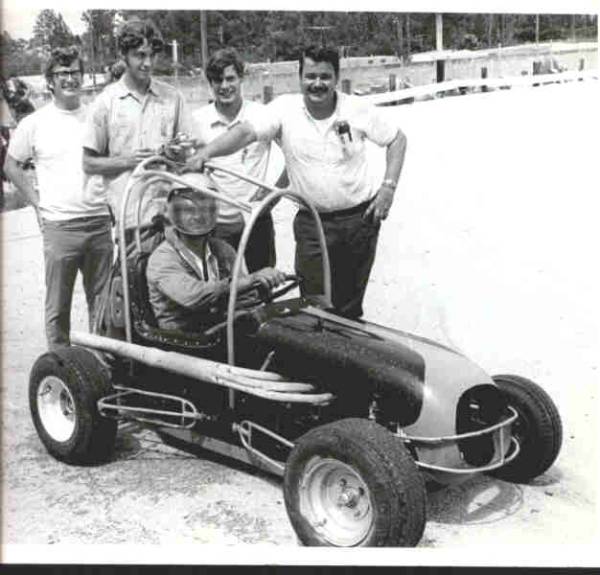 Oren Fields is strapped into the 46 with Ron and other crew members standing by.
This is a much more recent photo, note the rollcage.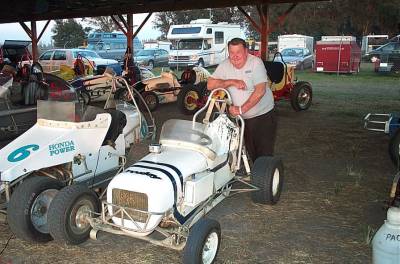 I took this picture of Ron at a D.A.A.R.A. meet in 2001. His sons Mike and Jerry drive these 2 midgets. They don't just parade around either. This TQ gets pushed hard to keep ahead of the big cars.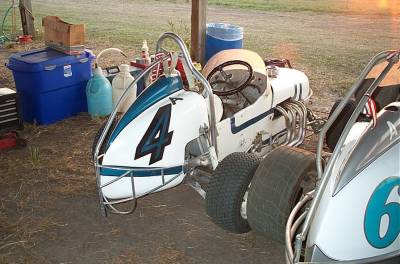 Ron's current TQ was built in 1958. It was still powered by Crosley engines that Ron built. This car appears on the "Mike Franklin" page of this site. It was driven at the track in 1974, was painted black and carried number 46. Ron had updated the body work since those pictures were taken, but underneith it is the same car.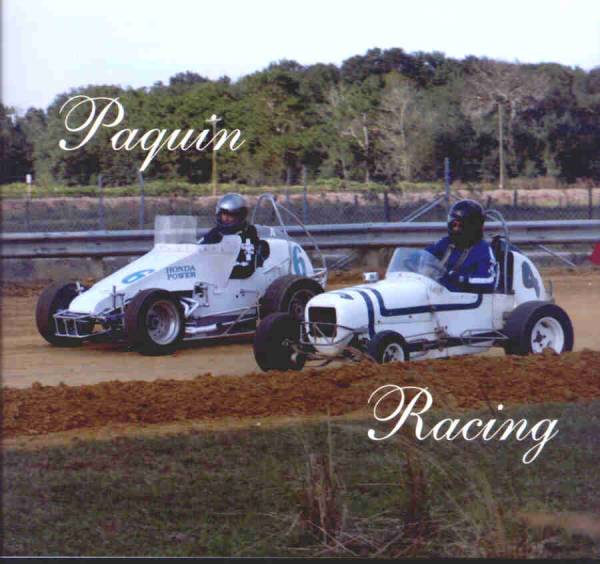 Smell the methanol and hear a Crosley wind up at Festival Park Speedway this February. The track is home to a huge gathering of antique racers. It is located in Zephyrhills, Florida. All are welcome!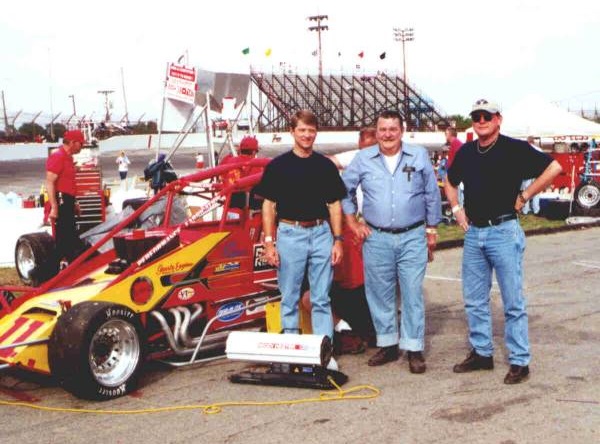 Ron joined in the celebration as part of the winning crew at Anderson Speedway in Indiana. The Paquins helped out the car driven by Florida's Jim Childers in the very prestigious "Little 500".

Ron left us in August, 2005 at the age of 73. He remained active up until the end racing vintage midgets with his sons. Clearly his love of the sport, and for his family, lasted a lifetime.
If there is racing in heaven, then I know our buddy Ron once again has his right foot mashed on the throttle, and is carrying his left front tire high in the air! R.I.P. to a fine husband, a great dad, a United States veteran, and a friend to so many in our racing world.



Home