FLORIDA CITY
SPEEDWAY

Photos and articles from the collection of

Ed Esser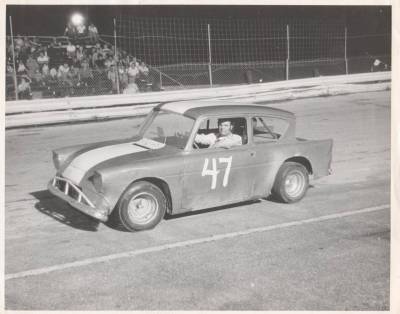 Meet "Big Ed" Esser, a Florida City veteran from Miami.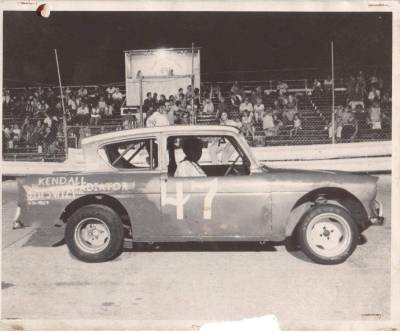 He is shown in his Anglia that ran in the modified "A" class.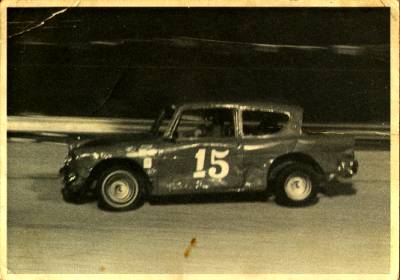 Bob Forman and Ed were good friends and racing partners for many years. They often kept their cars in the same shop, along with Dana Barlow.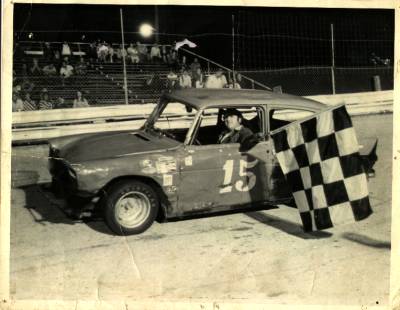 Bob tells a good story about the night that Ed had just got his car back together and decided to test it by flying up and down the parking lot outside the shop. He comes Ed, full speed, when one of his "helpers" rolls a tire out in front of the car! Adios radiator!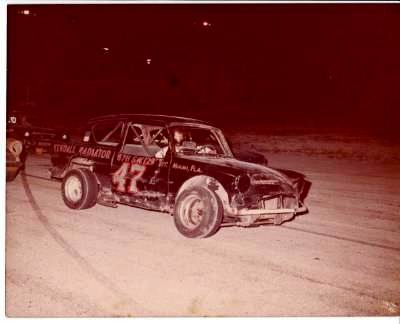 There was another night, Ed and Bob were working in the back of shop when 2 of their buddys got on the roof of the warehouse. These nuts started dropping lighted rockets in the warehouse door. Ed and Bob were pinned down by unfriendly fire, did I mention the shop was full of gas cans, solvents etc? Don't try this at home!

One of the offending parties was Bob "Roach" Bazer. He drove the "Vomit Wagon" VW, but that is a whole different story.
Ed, Bob and Dana ran at FCS, but they didn't hesitate to race wherever minis were on the schedule across the state: Tampa, St. Petersburg, Melbourne, Ft. Pierce and Naples were common destinations.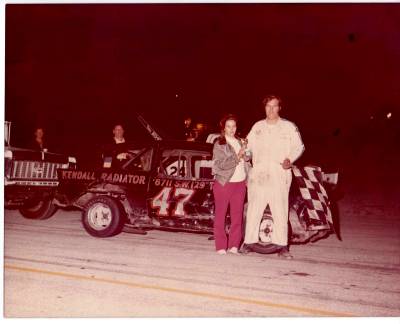 Here is Ed after a win at Hialeah.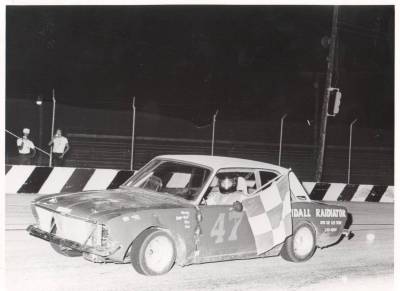 This car was a potent Cortina.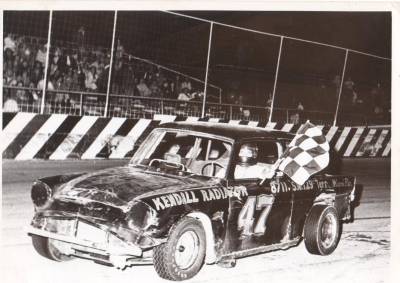 Hollywood ran a varied schedule of Sunday afternoons and Saturday nights.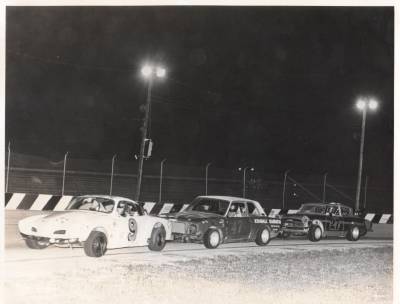 Ed races at Hialeah with two FCS veterans: # 9 Joe Varner, and # 27 Sam Kerr.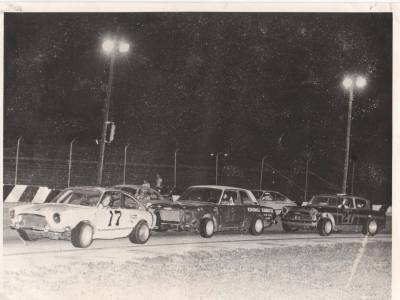 I beleive the 17 is Bob Williams.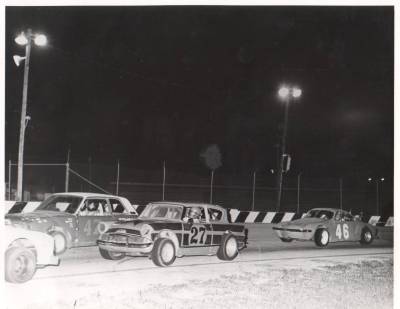 # 46 was driven by Mark Koegel. A few years ago, I ran into Mark racing in Texas.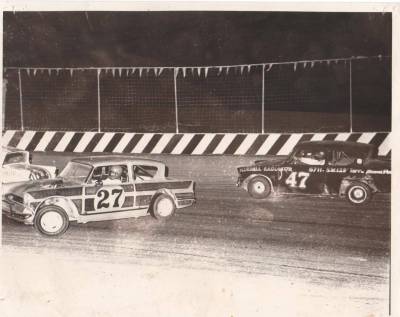 Sam Kerr looses the handle on the 27 as Ed holds his breath and hopes!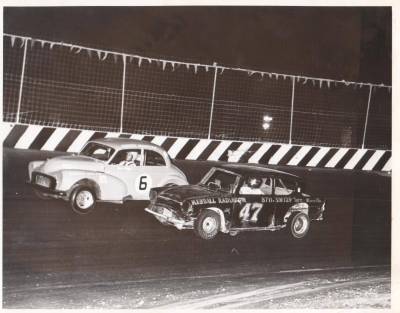 That is Don Edgar in the "Morris Monster" # 6.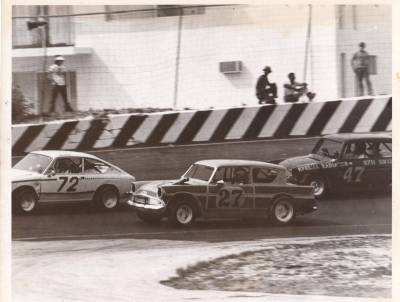 I believe the 72 is Dennis Butler driving a car bought from Miles Cole. The building in the background is the tower for the drag strip.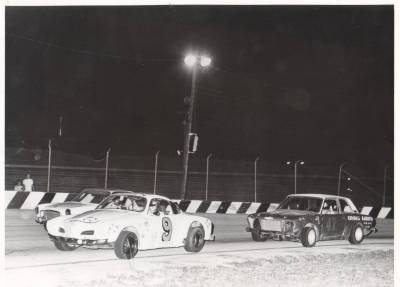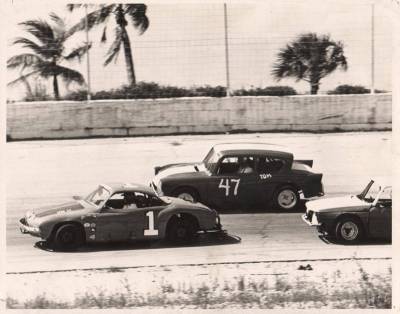 Ed and George Sweeting go at it at Hollywood.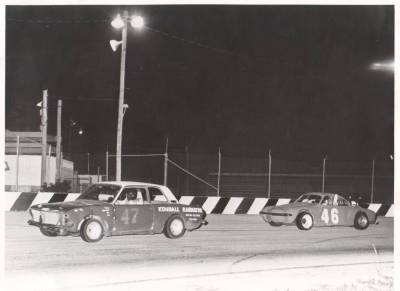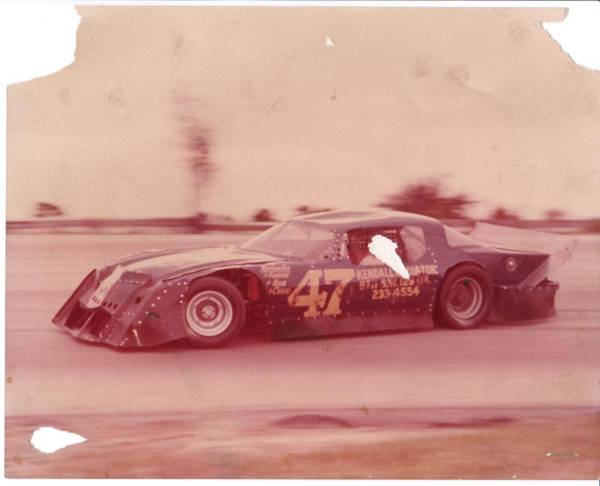 Its time to dirt-track a LM around Naples Speedway! Ed spent several years in Late Models and Limited Late Models. He concentrated on running for the points championships Hialeah, but would travel to Palm Beach and other tracks.

When we lost Ed a few years ago, we lost a dedicated racer, and good friend to the sport.

Home