FLORIDA CITY
SPEEDWAY

Photos and articles from the collection of
Dana Barlow

For his collection of newspaper articles, Click here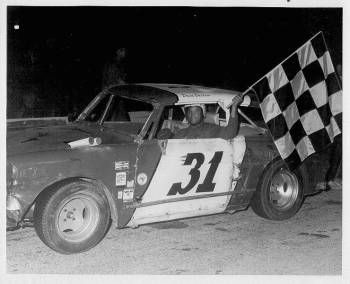 Dana was a consistant winner after the track reopened.
He ran in the "A" class modified mini-stocks with this
overhead valve Anglia.
(Photo by Ed Oberlies) Mar. 13, 1971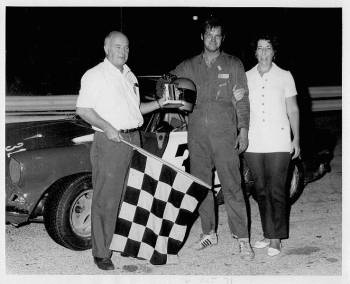 The Gary Smith Memorial was the biggest race of the year.
Dana is shown here after winning the 75 lap modified feature.
Gary's parents join Dana in victory lane.
(Photo by Ed Oberlies) Oct. 16, 1971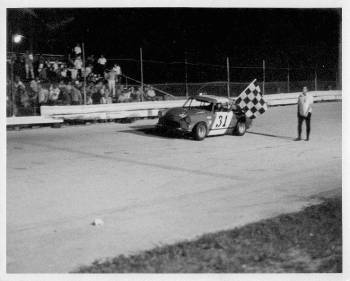 Dana was an officer of the Southern Mini Stock Racing Association,
which was the group that ran the track. He was a great mini-stock
supporter at a time when the class was new, and helped it to spead across the state.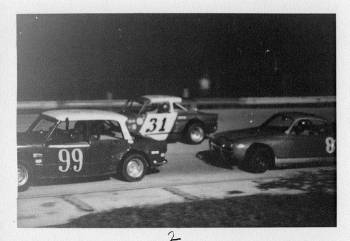 Feature action! Clark Little leads the way in his Fiat 850.
Barlow works the outside of George Sweeting.
It looks to me like Raleigh Beatty's #8, but Dana
insists that George drove it that night.
(Photo by Don Winchester) Nov. 7, 1971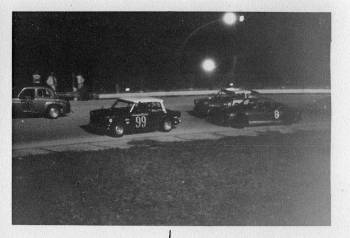 Dana is on the move as a lapped car appears. It is John Ray driving the #76 Triumph.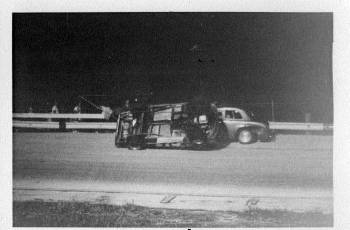 Oops! Dana rolls after tangling with the 76.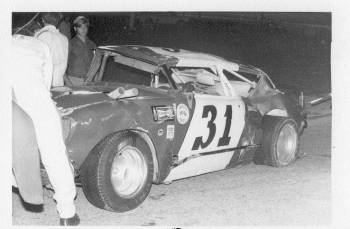 There is a Sunday race at Hollywood in just a few hours, so it is off to work on the 31!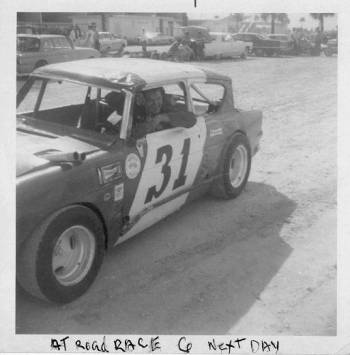 After an all-nighter, Dana is on track for some road race action.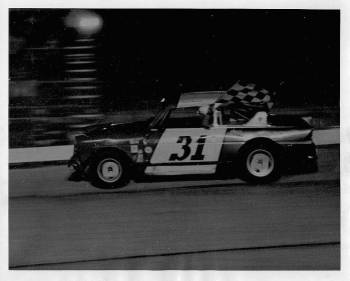 Halloween night and the winning ways continue.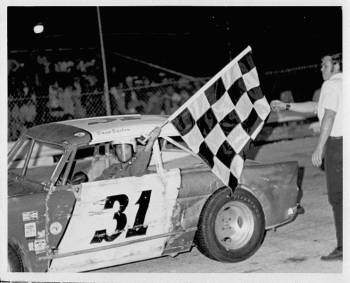 Dana and the SMRA developed some creative differences,
so he ended up forming a traveling mini-stock group,
the United Mini-Stock Conference.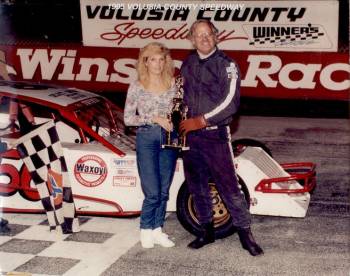 Dana Barlow spent a long career racing late models and mini-stocks.
Most recently, he helped to introduce the Pro-4 division in the state of Florida.
He is shown here after one of his many wins driving a car owned by Harold Perry.
Dana still builds racing engines, and had helped his son Lance get started
in a racing career.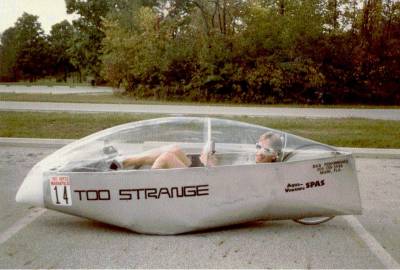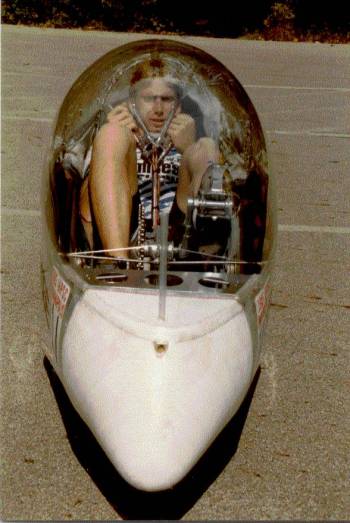 Some sort of California TQ? Going over the falls in a barrel? Not hardly. This was one of Dana's entries in the human powered vehicles contest at Indianapolis Motor Speedway. In 1985, this was the 7'th fastest cycle in the world at 51 MPH.

Home